---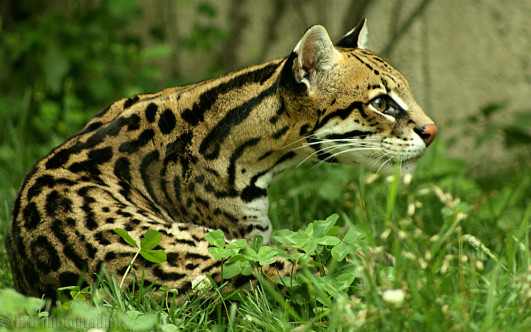 ---
Nicknames/Alias:
Rishi the Delicate, Ri, Rye, Shi, Rish / Wish
Sex:
Female
Age:
3 years old
Sardothien or Pixduas?:
Pixduas
Species:
Ocelot
Rank:
Scout
Crush:
None
Mate:
Wishing to have one
Pups/cubs:
Wishing to have some of her own
Eye Color:
Amber
Special markings/scars:
No special markings or scars
General appearance:
Rishi is decorated in spots and lines that adorn every inch of her delicate frame. She stands about 30 inches high with a slender build, she's not big or small for her species. Her fur is smooth and fine with a sleek like appearance. Golden eyes adorn her face. Small areas of whitish cream can be found under her jaw, neck, chest, and under belly. While the rest of her body is a tawny golden brown color with the addition of the black lines and spots. Rishi's nose is a mix of black and pink.
General personalty:
Rishi is a young and curious soul, everything amazes her and she's easily impressed. She is always looking for something to hold her short attention span or to just satisfy her thirst for learning. Rishi might not be large or muscular, but she knows how to pack a punch. Her slender build gives her the advantage of outmaneuvering her opponents and using her environment around her to her advantage. Intelligence is one of Rishi's most notable traits along with the goofiness that comes with a small child. Rishi is a helper and she loves helping those around her. She is compassionate and she loves to play with the young once they're old enough.
Likes


Helping out around the pack.

Dislikes


Sardothien and their ways

History:
Rishi was born in a more humid and hot region, a place known as a rain forest or that's what the humans used to call it before they disappeared altogether. Rishi was born to two loners who wandered around to see the world. That's how Rishi gained the trait of being curious all the time. Rishi wandered and grew up with the life of having no home, nothing was really
hers
. Despite getting a daily fill of wonder at seeing new things Rishi wanted to settle down. So she decided to leave her parents, but on that night a crazed dog attacked her parents when they were sleeping. Her father and mother fought off the wolf so Rishi could get away safe and sound. That night they died and ever since then Rishi has blamed herself. A few days of being alone turned into weeks which turned into months and by the time it was a year Rishi hardly noticed. Searching and looking for a home where she can settle in and build a life for herself.
Family:
Joy // Mother // Deceased
Dell // Father // Deceased
Application keys?:
Trows away both keys - Alpha Nero
How did you find us?:
I'm the founder
Other characters:
Alpha Nero and Elder Alayus
Roleplay post:
-