Alayus
---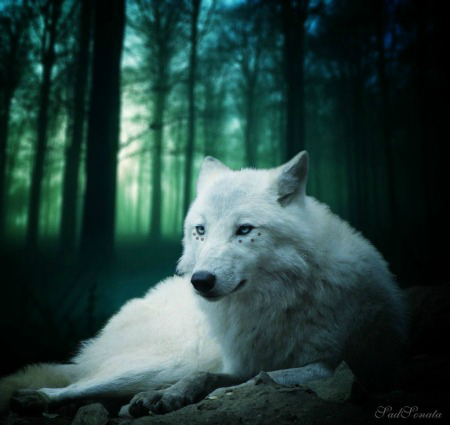 ---
Nicknames/Alias:
Alayus the Old, Alayus the Wise, Old Man, Ala, Alay.
Sex:
Male
Age:
7 years old
Sardothien or Pixduas?:
Pixduas
Species:
Grey wolf
Rank:
Elder
Crush:
None
Mate:
Shanon // deceased
Pups/cubs:
Riley // male // deceased
Eye Color:
Grey
Special markings/scars:
Alayus has 3 grey spots underneath his eyes
General appearance:
Alayus fur color is as white as moonlight, with grey patches of fur on his back. Despite his age Alayus isn't frail or scrawny, still keeping up with fitness. Standing at 87cm Alayus isn't extremely large, but he isn't small or average in that matter. Grey eyes adorn this wolfs head with a black nose and thick, rouge fur. He has three grey spots underneath his grey eyes.
General personalty:
Alayus is a kind and quite wolf. He isn't easy to anger with his level-headedness. He is quick to learn and teach those younger to him. One of his most pronoun traits is his wisdom, he only wished he had it more when he was younger. Alayus has a quick mind and an even quicker eye to catch those that would likely slip anothers eye. He isn't one who accepts change, he prefers older traditions. He is a very sweet and caring wolf who wears his heart on his paw. Alayus helps those around him even if he doesn't gain anything from it. In general Alayus is a big teddy bear who wants to right his wrongs.
Likes


Guiding felines and canines of his pack

Dislikes


Impulsive canines and felines

History:
Alayus life was a simple life. It wasn't good, but wasn't bad either. He was born in a single parent home, his mother being an omega and his father being the beta. Making him the illigetimate son of a beta who was already mated to a different she wolf, resulting in Alayus being a one time fling. She-wolves were treated poorly and having a lower rank affected how much you were used or treated. Alayus was lucky being born a male, he ended up having a privileged life. As he grew he became more and more of an ass, he thought he was better than everyone else. Though he didn't agree with the way his pack treated their she-wolves he didn't stop them either. Alayus grew up to be a warrior and later became the lead warrior of his pack. He was highly respected. At a young age Alayus excelled and gained the rank of Guardian. He became a close friend to the alphas.
One day his mother was severely punished because of Alayus' action. He stole some extra food and herbs from the shamans to heal his sick mother. When the pack noticed the stealings and Alayus' mother getting better they connected the dots and were going to execute her. Alayus felt bad, but he knew if he were to die his mother wouldn't survive. So instead Alayus admired his crime and plead that they free his mother. Being friends with the alphas helped tremendously. The alphas released his mother and demoted him to omega, which was the most humiliating rank a male could be given. For a few months Alayus was an omega before he left the pack with his mother. She was sick once again and this time he could do nothing about it.
Weeks later Alayus and his mother, Maven found a small and kind pack who took them in. There Alayus met his mate, Shanon, the alphas daughter. Alayus became a shamans pupil and studied the arts in healing. Maven became the packs elder and lived the rest of her days being happy and healthy. Alayus was four when he finally mated with Shanon and became the packs alpha. He was even more happy when Shanon and he had their first litter. A single boy who they named Riley. Shortly after Riley's birth Maven passed on from old age. Alayus lived a happy life until one day a deadly sickness whipped half his pack out, leaving only him and his son Riley alive. His mate wasn't lucky and perished to the illness. Alayus and his son left their home land looking for a new pack to join. For 2 years Alayus and his son were rogues, fighting to survive. They got in a fight with two other wolves, Riley was wounded. They won, but over the days Riley's wounds became infected. Alayus tried everything he could to save his sons life, but in the end he passed on. Leaving Alayus alone. It was then that Alayus finally gave up on life. He kept walking until he finally perished from exhaustion on Pixduas border. The pack took him in and cared for him like their own. When Alayus was strong enough he decided to stay in the pack for the rest of his days. Being 5 1/2 he took the job of becoming a nanny and cared for the packs young. He took a special interest in one of the Alphas pups, Raina and took her under his wing and raised her as his own. When Raina became a young adult Alayus finally retired. He is now known as an elder, he only hopes he can die with this new pack.
Family:
Shanon // mate // female // Deceased
Riley // Son // male // Deceased
Maven // Mother // Deceased
Application keys?:
Nero laughs mechanically and slips away with the keys -Alpha Nero
How did you find us?:
Founder of this place
Other characters:
Alpha Nero and Rishi
Roleplay post:
-