Blixt
---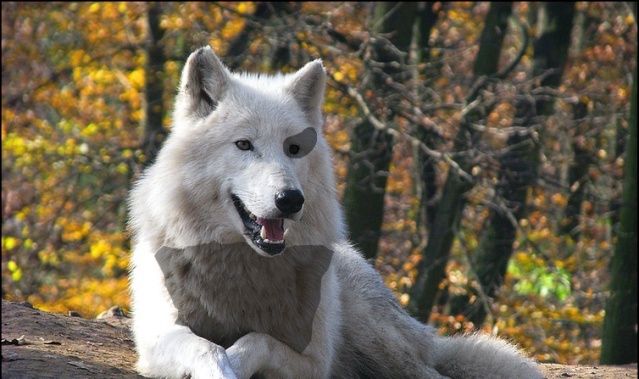 ---
Nicknames/Alias:
No nicknames, Is known as, "Blixt the Purloiner" (Another word for stealer)
Sex:
Male
Age:
3 Years old
Sardothien or Pixduas?:
Loner/rouge
Species:
Arctic Wolf
Rank:
Loner/rouge rank
Crush:
None
Mate:
None
Pups/cubs:
none
Eye Color:
Grey
Special markings/scars:
Has a grey stripe on one of eyes, and has a grey chest. Has a few unnoticeable scars here and there.
General appearance:
Blixt is a white Arctic wolf, with a long, fluffy white coat with a hint of grey and eyes that reflect raging dark storms, or gloomy clouds. He's a bit short then the average grey wolf, as Arctic wolves are, but that doesn't lessen his strength. Though you can't see it under his fur, he packs a muscular body fit for taking down large prey. His chest a darker color than the rest of his coat, and his eye has a grey strip going off of it.  
General personalty:
Blixt is a passive, but hard-hearted brute who think emotions are not needed. He spent his childhood arguing with other felines and canines, and is tired of the anger and annoyance it causes. He is quite used to doing labor, and so when he has nothing to do, he can easily grow bored and irritable. He does not have many lines that he can cross, and he will go to underhanded tricks and shortcuts in order to win a battle. He's rather intelligent, which he uses for his trickery. He heavily believes revenge is the right thing, and he will attack someone for the littlest thing for "Justice". He doesn't have a high blood lust, and will only fight when it comes to revenge.  
LikesDislikes


When someone try's to talk back to him

History:
Blixt was born as a only-child into a pathetic, small pack with no real means of getting food. Many of the wolves were elders, and no longer fit enough to hunt for food, or they were omegas or nannies with not much experience hunting. Blixt's parents were apart of the only few wolves who were out and hunting, but there was no way they could ever get enough food by themselves.
There was a nearby pack, with a large amount of members, and plenty of food to spare. Even though Blixt was still young, only around a year old, Blixt was sent over to the nearby pack in order to negotiate with them. A deal was made up. The nearby pack will send food over to Blixt's pack, and his pack will send over other resources the other pack needed. Blixt was to oversee this, with help from a couple other members.
But as time passed, Blixt began to notice things were going missing, and sometimes, the other pack never gave his pack food. Blixt connected the dots, and assumed the nearby pack was trying to swindle them. Instead of going up to them directly, Blixt started to do the exact same thing to neighboring pack as revenge. He would constantly steal food from the pack, and other things, which earned him his title.
When the other pack found out, they were completely furious. In order to stop a war, which the pack would surely lose, they banished Blixt in order to appease the other pack.
Blixt has been on his own since then, angry at packs in general, and always thirsting for that taste of revenge.
Family:
Venon - Dad: Alive
Gana - Mom: Alive
Application keys?:
-Alphess Raina will not reveal such keys-
How did you find us?:
Also being Raina, I know everything... Muahaha!
Other characters:
Alphess Raina